HOW TO GET RID OF FUNNEL ANTS?
The best method to get rid of Funnel Ants is to eradicate the ant colonies in the lawn. There can be many ant colonies in the yard.
All the ant colonies need to be treated for long term success.
The treatment contaminates the foraging ants who then transfer to other ants in the colony and in this way they take the treatment back to the nest and queen.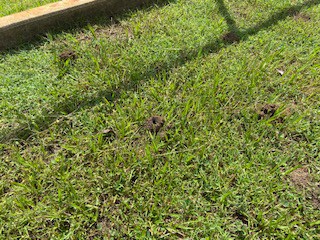 WHAT DO THEY LOOK LIKE?
WHY ARE THEY A NUISANCE?
The ants are a light brown color and about 5mm long.
The ants can bite if they are defending the nest.
The best way to identify funnel ants is by the mounds of dirt on the lawn.
The ants excavate the soil from beneath the grass and build dirt mounds above ground.
The lawn becomes very uneven and in some cases dangerous to walk on
When the grass is mowed, unsightly bare patches are visible through out the lawn.
WHERE DO THEY INFEST?
HOW DID THEY INFEST YOUR PROPERTY?
Funnel ants are found throughout Australia.
They infest open areas like ovals, paddocks, lawns, grass lands and also forested areas.
They are most commonly seen in local suburban ovals , park areas  and household lawns.
Funnel ants normally spread from neighboring properties.
They can be transported in mulch and soil.
Soil can be transported on equipment and tools from infected areas.
THERE ARE REGISTERED CHEMICAL TREATMENTS FOR THE ERADICATION OF FUNNEL ANTS.
THE MOST EFFECTIVE CHEMICAL TREATMENTS MUST BE APPLIED BY LICENSED TECHNICIANS.